Apple has extended free repairs of
anti-reflective coating issues
for the 2013 to 2015 MacBook Pro with Retina display.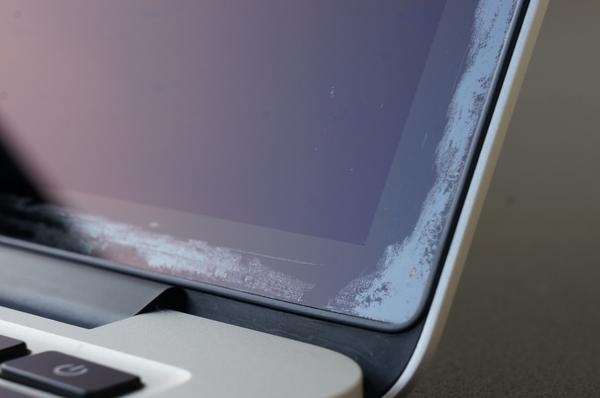 Apple has authorized coverage within four years from an affected MacBook Pro's original date of purchase, according to an internal document distributed to Apple Authorized Service Providers and later obtained by MacRumors.
Both 13-inch and 15-inch MacBook Pro models released in 2013, 2014, or 2015 qualify for a free display replacement within the four-year coverage period. Apple says all 2012 models are no longer eligible for free repairs since both the 13-inch and 15-inch models were discontinued by October 2013.
Below is a list of the absolute latest dates that each MacBook Pro model may remain eligible for coverage based on when each was discontinued:
• 2013 13-inch MacBook Pro: July 2018
• 2013 15-inch MacBook Pro: July 2018
• 2014 13-inch MacBook Pro: March 2019
• 2014 15-inch MacBook Pro: May 2019
• 2015 13-inch MacBook Pro: October 2020
• 2015 15-inch MacBook Pro: Still sold
Apple previously confirmed to us that the repair program continues to be handled internally rather than being publicly announced.
Affected customers can schedule a Genius Bar appointment at an Apple Store using the
Apple Support app
. Or, on the
Get Support page
, click Mac → Mac Notebooks → Hardware Issues → Display Issue and options should be presented to initiate a repair or contact Apple via phone, email, or online chat.
Apple's support website will ask for your Mac's serial number, which can be found by clicking on the Apple logo in the top-left corner of the screen and clicking on About This Mac in the dropdown menu.
Affected customers can also visit an Apple Authorized Service Provider to determine if their notebook is eligible for coverage. If you have already incurred out-of-warranty costs related to this issue, you may be eligible for a refund, which can be initiated by
contacting Apple support
directly.
Since the repair program has not been publicly announced, some Apple support representatives may be unaware of its existence. Escalating your request to a senior advisor may help, but your mileage may vary.
Apple first
began the repair program
in October 2015, and has now
extended it twice
, after some MacBook Pro owners experienced issues with the anti-reflective coating wearing off or delaminating on the Retina display.
The damage appears to be caused by a variety of factors, including the pressure of the keyboard and trackpad on the display when closed, and the use of incorrect third-party cleaning solutions with microfiber cloths.
Over 12,000 customers joined a
Facebook group
dedicated to the issue, and hundreds of others have claimed to be affected across the Apple Support Communities, MacRumors forums, Twitter, Reddit, and other discussion platforms.
The website
Staingate.org
contains a gallery of MacBook Pro models with seemingly damaged anti-reflective coating, revealing that the blemishes can be relatively minor or extend across the entire display in extreme cases.
The anti-reflective coating issues do not appear to affect any MacBook Pro models released in 2016 or later.
Discuss this article
in our forums